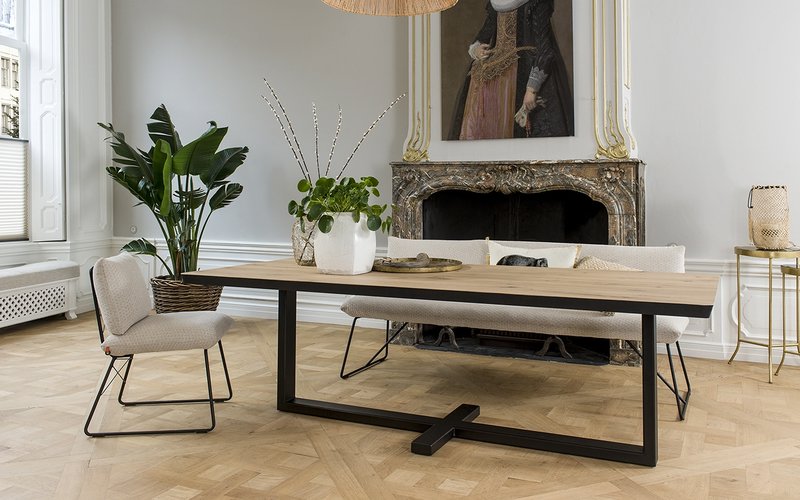 Choose your style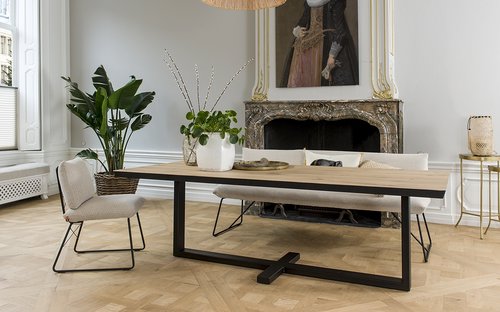 STURDY & FASHIONABLE Industrial dining tables are very popular. That makes sense, because industrial tables are not just sturdy and fashionable, they also make your home look very welcoming. At Table du Sud you will find a wide range of industrial dinging tables. All our tabletops are traditionally made of solid, reclaimed oak, set on an industrial frame. So you will find your (made-to-measure) industrial (dining) table in our range. (Almost) anything is possible Do you already know what your perfect tabletop would look like? We will be happy to help you bring that dream to life. We let you select from tabletops of different thicknesses and with frames made of different materials. Our industrial dining tables have a tabletop of reclaimed French oak which can be 5, 6 or 8 centimetres thick. The frame is made from metal or stainless steel. The original weld seams are still visible. For a sturdy industrial appearance. Authentic and indestructible With industrial furniture it's all about the used, marked look. What could suit this better than reclaimed oak? We do not fill in the knots and scars in our tabletops and the tabletop is given a special brushing treatment. This makes your industrial table look authentic and indestructible. Unique handmade items How cool is it to think the table you are now sitting at was made in the traditional way by craftsmen in Heeze who are passionate about their work? We make what you dream of. Oval, round, square? Just tell us! We use the plane to turn rough timber beams into magnificent tabletops, and we weld the metal frames ourselves. In this way, we create unique items you will not find anywhere else. Our different series of industrial tables Looking for an industrial dining table? You will find a number of different series in our webshop and showrooms: Montpellier series: 5 centimetre solid French oak Orleans series: 6 centimetre French oak Nice series: 8 centimetre French oak Lourdes series: 6 centimetre solid French oak Here's how we'll finish it for you Do you like chic, rugged, sturdy, large, small? With Table du Sud you decide the look of your dining table for yourself. In our workshop we finish the tabletop in your choice of colour using the material you selected. Do you want to go for a matt or ultra-matt lacquer (to retain the original character of the wood)? Or would you rather have a coloured lacquers, maybe white or greywash? Whatever you choose, every treatment offers great protection against marks and stains. Made-to-measure industrial dining tables On our Table du Sud webshop and in our showrooms you will find a load of our industrial dining tables. Or would you rather put your own table together yourself? Or maybe you want a table with non-standard dimensions? No problem! We can make it for you. This way you can decide for yourself on the type of tabletop, the frame and dimensions. Feel free to contact us or come along to one of our showrooms. Combine away! Combine your table with our dining room chairs or dining room benches. Take a look at our wide range online or in one of our showrooms.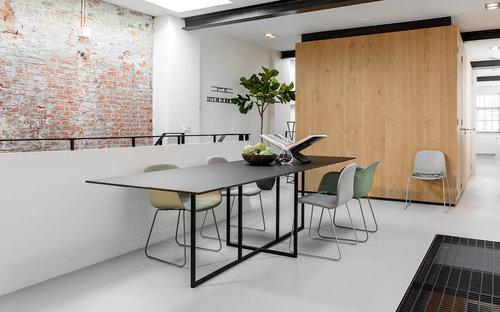 Sleek design A home characterised by a modern living style is known for a minimalist look, one with clean lines. You could almost say that there is an artistic vibe present. This is translated into the furniture. The furniture has sleek and/or smooth lines, alternating between eye-catchers and subtle designs. Modern tables At Table du Sud you will find modern tables in addition to industrial, rural and Scandinavian tables. Just like modern interiors, a modern table is characterised by clean lines and a subtle choice of materials. Fenix tables fit in perfectly with this! The material is matte, sleek and wafer-thin; as much as 12 mm! Subtle frames A modern tabletop naturally needs a matching frame. Our modern tables are therefore outfitted with appropriate subtle frames to complete the picture. It is super nice to powder coat these frames, which gives the table an extra modern look.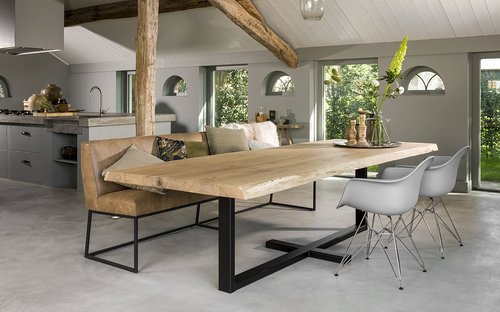 Warm and robust A house characterised by a country-house style is known for its warmth and cozy look, with a variety of materials. Natural materials form the basis for colour alternations. Think of earth tones, green, black and white. Combine a robust oak table with sturdy dining chairs and matching TV furniture and/or a coffee table and your interior is complete. Modern tables At Table du Sud you will find rustic tables in addition to industrial, modern and Scandinavian tables. A lived oak table is characterised by knots and cracks and the surface of the tabletop is brushed. This endows table with that natural appearance and you'll just feel that it's a natural product. Characteristic frames The frames of our rustic tables vary from steel frames to monastic legs, handmade in our workshop in Heeze. The frames are assembled by people with different expertises, but with the same passion, so you will enjoy your table for a long time.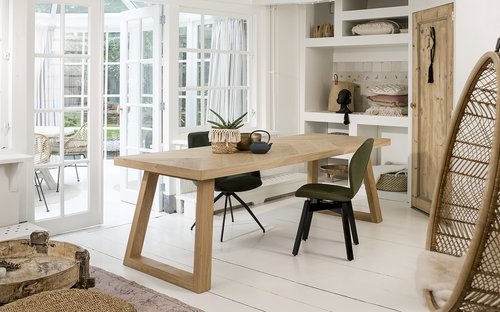 Herringbone dining tables
The beautiful herringbone pattern, now available as a table! Herringbone is well known as a beautiful pattern for a wooden floor. A herringbone floor is both stylish and timeless and might even be one of the most famous current interior trends. Now you can also find this beautiful herringbone pattern as a tabletop at Table du Sud. Herringbone Ready for something other than a straight-lined oak tabletop? Then take a look at our sturdy and somewhat playful herringbone tabletops. The herringbone tabletop consists of planks of 18 centimeters wide oak; the table tops can be treated in any desired colour. The top is then framed with a wooden frame, which is glued around the top in mitred form. The height of the frame is 6 centimeters thick by standard, this is also the top thickness. Because we want to offer you a lot of choice and custom sizes with our herringbone tables, you can find the herringbone pattern in different shapes: • Rectangular herringbone tables - sturdy, robust yet elegant table that is an eye-catcher in every home.• Oval herringbone tables - the benefits of a modern oval tabletop with a trendy and timeless herringbone pattern.• Round herringbone tables – the beautiful wooden herringbone pattern combined with the cosiest table shape. Industrial frames Our herringbone tables can be combined with various industrial bases. If you would like to be able to put dining chairs around the entire table, then either the herringbone dining table Gap or oak herringbone dining table XX might be good options for you. With other frames, such as a U-frame, the legs are situated more on the front side, so that you have full space with your feet. Our herringbone tables are classic with a modern, industrial twist. Combine the oak top with an oak frame if you like a full oak table. You can also opt for a sturdy metal or stainless-steel frame for an even more modern look. Handcrafted Those who like industrial do not usually like mass production. Our oak tables are all handcrafted in our own workshop in Heeze. We shave beautiful tabletops from rough beams and weld the metal frames ourselves. This creates unique items that you will not find anywhere else. Want to see our tables in real life? Come visit one of our showrooms in Nieuwkoop or Heeze. You can even look into the workshop at the showroom in Heeze! On our inspiration page you will find more information about styles, maintenance and how, for example, a herringbone table is made.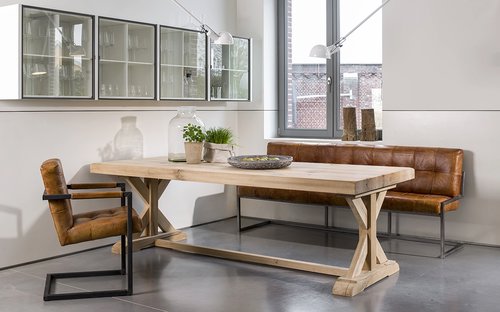 For a robust look Back in the days nuns used to sit at long, sturdy tables. That design has retained its strength, because the monastery table still provides a beautiful, solid and stylish centrepiece in your interior. Expect a sturdy tabletop and beautiful wooden legs. The length of the table ranges from 1.50 metres to several meters. You can also choose between various thicknesses and designs and define the height yourself. For wood lovers As true wood lovers, the hearts of our Table du Sud craftsmen in Heeze start to beat faster when they start working on this table. As you might expect from us, this table, including the legs, is made in our own workshop. Do you have a special request? We'll make it for you!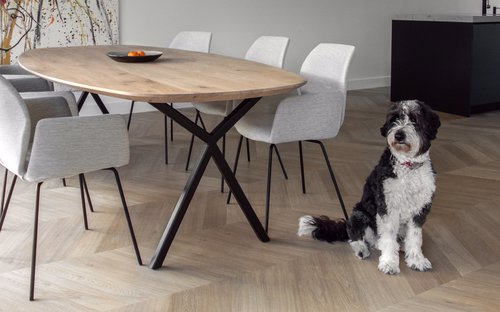 Scandinavian dining tables
Lifestyle fashion from the north Scandinavia is as hip as can be. We read thrillers from the North, book trips to Sweden or Norway and enjoy Scandinavian TV series. And we also copy their clean living trends! At Table du Sud we keep a close eye on lifestyle trends, so you will find that we have the most beautiful Scandinavian dining tables as well. Simplicity & purity Slender legs? Simplicity? Purity? Check, check, double check! These are timeless tables you'll enjoy for years. Table du Sud has beautiful Scandinavian dining tables available in every size, up to 270 centimetres. The tabletop: 4 centimetres of solid oak. Timeless favourite Because of their simple, slender and pure appearance, these tables fit in well with all kinds of interior styles. They are timeless tables, tables that will give you years of pleasure. These beautiful Scandinavian dining tables from Table du Sud are available in any size up to 270 centimetres and use 4 centimetres thick solid French oak. Take a look at our oval tables, also very nice in the Scandinavian style.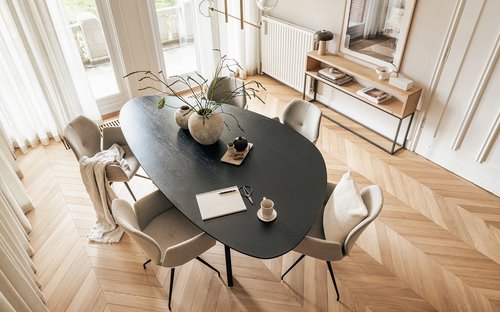 Japandi, a surprising combination of Scandinavian and Japanese, is gaining in popularity. At Table du Sud we also belong to the fanbase of this new living style, one that's taking the world by storm! We've got quite a few dining tables that wouldn't look out of place in a beautiful Japandi-styled dining room. On this page you can find all the relevant information. Material The furniture that we often see in Japandi interiors is made of natural materials. Working with natural materials is one of our specialties, which leaves you with a ton of options regarding materials at Table du Sud. Oak Oak wood is and remains a classic when it comes to furniture material. If you are going to furnish your Japandi dining room, oak is a solid choice. Did you know you have several options in terms of oak during the composition of your Japandi dining table? If you want to go for a purely natural look, we advise you to choose lived oak. Lived oak means we leave the knots and cracks as they are. Of course we ensure that any sharp edges are properly finished, so you can't hurt yourself. You also have the option of choosing new or refined oak. New oak may have knots and cracks in the wood, but those are filled for you. Refined oak furniture is made from specially selected wood with virtually no knots or cracks. Shape Japandi mainly focuses on organic shapes. This means that square, rectangular, and circular shapes aren't really part of this style. An organic shape is a natural shape, like a water drop. The pebble-shaped dining tables are currently on the rise and fit perfectly with Japandi. With a pebble-shaped dining table you make efficient use of your space and you opt for an original design without sacrificing the dimensions of the tabletop. Japandi colours Once you've made up your mind about the shape and material, it's time to choose the colour. Brown, beige, cream, grey, terracotta and pastel shades are the main colours that constitute the Japandi style. The pictured furniture is there to give an indication of the possibilities, but remember that it's really only the tip of the iceberg. Did you know that our dining tables are available in more than ten different colours? When you're composing your table, you'll see exactly which colours we have in store for you. This way you can match that colour with the rest of your Japandi interior. Tip: become inspired by our colour samples! That way you can easily see which colour really suits you from the comfort of your own home. More inspiration Interested in Japandi? Then read up on this living style. For the real fans, we also wrote a nice article about Wabi-Sabi, the philosophy from which Japandi partly originated. In any case, looking at different living styles will always be a good foundation when going for a makeover. Think about the inspiration you'll get by looking at modern and industrial living styles, for example! We have listed all living styles for you. Frequently asked questions about our Japandi dining tables What's the delivery time of a Japandi dining table? We do everything we can to deliver your table as quickly as possible. The most recent time of delivery can be found on the page of the table you selected. We adjust this information weekly, so you know exactly where you stand. What are the delivery costs of a Japandi dining table? Delivery on the ground floor is free of charge with an order value that exceeds €250.-. Please see our delivery page for any possible delivery costs. How much does a Japandi dining table cost? As soon as you select a table you'll see the price. As you indicate your preferences during composition, such as the type of wood and the colour, you'll be updated by any possible price changes. That way you'll never be faced with any surprises. Do I get warranty? Yes, of course. All Table du Sud furniture comes with a 12-month warranty. Want to know more? We have collected all the information for you on our warranty page. How can I best maintain my Japandi dining table? That depends on the material. For each material, we have specific maintenance products in store for you to best maintain the quality of your dining table. Can I see the Japandi dining tables in real life first? In our showrooms you'll find an extensive selection of our range. You can find us in Heeze (near Eindhoven), Utrecht (in The Wall on the A2) and Deventer. You don't need to make an appointment for a visit. What size dining table is best for me? Make sure that there's enough space available around the table so that you retain free passage. In addition, the number of people is a good basis for determining the dimensions. For inspiration, read our blog about the number of chairs at the table. It may help you to make the right choice. Do I have to make a down payment? Before we get started, we ask for a small deposit of 10% of the purchase price. Can I still change my wishes after I have placed my order? This is not possible because we provide custom work that exactly matches your specific wishes. Please contact us as soon as possible if this occurs.