Our pride. In our factory in Heeze we make our furniture with our own hands.
Straight from the factory
We skip the middleman and offer our furniture directly to you.
Table du Sud is revolutionizing the supply chain. By delivering directly from our own factory, we can offer the best furniture for a reasonable price.

Moreover, furniture really is our passion and we just love authentic craftmanship.
"At showroom Heeze you can take a peek in the factory, which is really nice to see!"

Isa Snoeijen
Showroom Heeze
This is how we do it
Step by step how it's made
Delivery
Not only do we make our furniture ourselves, we also deliver and assemble it ourselves. In the case of a table, you can determine the position of the leg yourself and we will put it in the right place with you.
19
The wood
Our oak tables are made of solid oak wood. The journey starts with the stock of oak beams, which is replenished weekly with the most beautiful dried oak.
1
Planing wood
The beams are planed separately to get a good impression of the drawing of the wood. Because the side is flat, we can glue the plank seamlessly.
2
Wood selection
After that a combination of beams is made to make a evenly looking table top.
3
Glue line
In the glue line, the beams are glued together to form one sheet. Gluing is fully automated. The drying time in this state-of-the-art machine is only 3 minutes.
4
Sanding wood
The table tops are sanded twice. The first time the top is smoothed for further finishing.
5
Fill up
When you choose new or refined oak, knots and cracks are filled with a resin.
6
Shaping
The shape is milled with the CNC machine. From oval to pebble to rectangular!
7
Sanding wood
The blade is sanded again to remove the excess filler. We can also opt for a program that brushes the table top directly for a slightly rough look.
8
Sanding sides
The sides are smoothed with an eccentric sanding tool.
9
Check check
that all irregularities can be removed from the blade prematurely. Throughout the production process, the blades are provided with labels so that everyone in the workshop is aware of the desired finish. After all blades have passed the first quality check, they are lacquered or oiled. When the lacquer or oil is dry, a final quality check is carried out.
10
Spray booth
Finally, the table is varnished in our spray booth. We first color the top with a stain and then we protect the table with two layers of clear lacquer.
11
Tube selection
The bases of Table du Sud are composed of different materials, types of tubes and also different sized. The making of the undercarriage therefore starts with this selection.
12
Cut to size
After the correct tube has been selected, it is cut to size, so that the frame has the correct height and width.
13
Assembly and welding
Spectacular as ever: the welding! Sparks literally and figuratively flying.
14
Measure and check
Better safe than sorry! After the bases are ready, they are always measured and checked.
15
Prepping for delivery/transport
Connect all! The bases are prepared for cleaning and to be provided with a clear coat of varnish. Most of the bases go to the coater.
16
Transport
If you have opted for a powder-coated base, it will be transported for a while to be powder coated externally. This treatment provides it with an even, matte finish. When the base comes back, it is ready to be delivered with the table top. Tip: check our Fast Lane for furniture that can be delivered within 5 working days!
17
Final stop
The last stop before our furniture arrives at your home. The tops and the bases are kept safe until they are picked by a logistics employee.
18
Start the tour at showroom Heeze, after which you can even take a peek in the factory.
No mass production, but custom made for you.
After you have assembled your furniture from head to toe, our craftsmen will get to work. We assist you in our showrooms, make it with our own hands, and also deliver it to your home.

So no mass production, but piece by piece unique furniture. Locally produced, for people who are looking for authenticity in the furniture industry.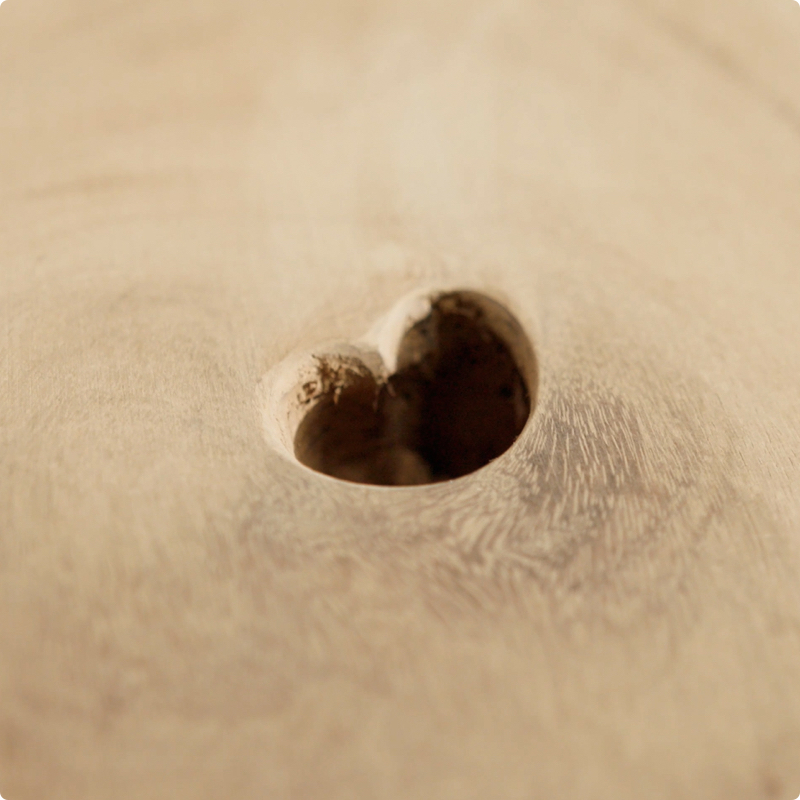 High-quality materials from the best suppliers
Because we produce the furniture ourselves, we are also in control of our suppliers of raw materials. Table du Sud only works with the best suppliers that have the same values ​​and standards as we do.
Our goal is to ensure that you enjoy our furniture for a long time. So whether oak, marble or Fenix ​​is ​​used for your furniture, you can rest assured that the quality of the materials is top notch!
Get to know Table du Sud! We'd love to tell you more.
data-link="/en/duurzaamheidtds" data-text="Sustainability" data-sm-text="Besides that our products are produced locally, we also do our best to act sustainably in other ways" data-button="Read more"
data-link="/en/over-ons" data-text="About us" data-sm-text=" The story behind Table du Sud! Read about entrepreneurship, ambition and our dreams." data-button="Read more"
data-link="/en/materialen" data-text="Materials" data-sm-text="We love wood! But we also dig other materials. Discover them here!" data-button="Read more"