Tough and concrete tables for an industrial interior
The table top is made of a concrete layer on an MDF (wood fiber) plate with a thickness of 4 cm. So you have the structure, look and character of the concrete, but not the heavy weight. This makes the material less sensitive to stains and easier to maintain than a solid concrete table top.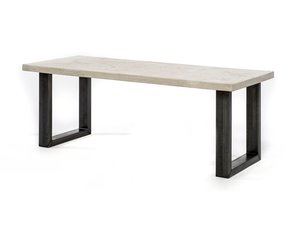 When you think of concrete, you might think of a heavy, cold blade. Wrong! Our blades are not massive and therefore very handy. Thanks to our unique coating, your concrete table is super maintenance-friendly!



Different colors, shapes and sizes
As you are used to from us, you can also find this sheet in many sizes. This way you will always find your perfect match! You also determine the shape of your new table yourself. Are you going for a round concrete table, an oval concrete table or a rectangular concrete table?

You choose which color you like best: charchoal, light grey, basalt or white?

And don't forget the chassis! In addition to all the different designs, you can also choose between a wooden or a steel base. It's up to you!
Our concrete tables are virtually maintenance-free. In general, cleaning with a damp cloth is sufficient. Be careful with tea bags, red wine and objects that oxidize.

We recommend using coasters under hot and sharp objects. Concrete is more susceptible to stains and rings than ceramic and wood.



That's how you keep it beautiful
We recommend treating the table immediately with Seal-Guard upon receipt. After this, we recommend spraying with Seal-Guard sealant once every six months. This ensures that the blade is closed to dirt and moisture. The table has therefore not yet been treated at the time of purchase.