Oak
Want to buy an oak table? Check our options
An oak tabletop tailored to your wishes combined with a steel frame of your choice! At Table du Sud you automatically opt for customisation, as everything comes from our own workshop.
And guess what? Making oak tables with steel frames is precisely one of our specialties! Read all about it in this blog.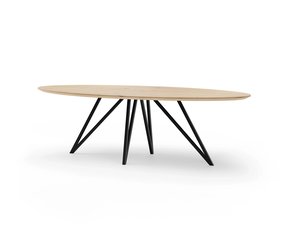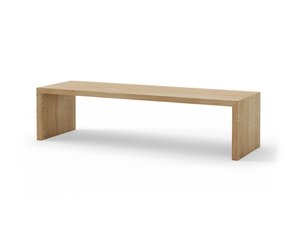 Oak dining table or tabletop
An oak dining table to live at and to enjoy for an incredibly long time. With that objective, we roll up our sleeves and get to work. Did you know you're the director of your own oak dining table at Table du Sud? Pass on your measurements, the type of oak, the colour and the frame and we'll start making your dream table. We're more than happy to inspire you with various tips and other useful facts to achieve perfection. A sneak peek: we also sell separate tabletops.
Types of oak
"Oak" is a popular term in the furniture world and will remain so for a while. Oak tables can take a beating and last a long time. But did you know that you can make a choice when it comes to wood at Table du Sud? We do everything we can to match the table with your wishes, determining the specific type of wood is one of the details we need to accomplish that.
Lived oak
Fans of authentic, rural and classic styles will probably find exactly what they're looking for with lived oak. We try to keep lived oak tabletops in its original condition as much as possible. This means that we leave knots and cracks in place, just like nature intended! Of course, we ensure that all edges and corners are neatly finished so you won't hurt yourself.
If we take a closer look at lived oak, a number of properties will stand out. As mentioned, we leave the cracks and knots in place, but that doesn't mean your oak table will have extremely large holes/knots in it. With "normal" lived oak tabletops we leave the larger cracks in place.
Therefore, lived oak is unique when it's compared to other types of oak, where the knots and cracks are filled. However, there are exceptions where we decide to fill them even with lived oak tabletops. Think of safety reasons, such as knots that have sharp edges.
New oak
Do you prefer something a little sleeker, but still want that authentic wood-look? Then opt for new oak. New oak basically means that while there are knots in the wood, they'll be completely filled. We can choose to fill the knots in the colour of the wood. This filling ensures that the tabletop feels smooth to the touch.
We can safely say that new oak has no cracks, although it might have some small hairline cracks. The tabletop can contain knots, but those are filled. Remember we work with natural products, which is why the structure of each plank is unique.
Refined oak
For refined oak, we select special planks that contain as few knots and cracks as possible. Not every plank is eligible for refined oak. Again, because we work with a natural product, we cannot rule out the possibility that the oak contains mini knots. The maximum sheet thickness is 4 cm. If you opt for refined oak, you can be sure about getting a super sleek top.
Different colours of oak wood
When you think of oak, the odds are great that you're imagining that typical wood look. However, that doesn't mean all our oak tables are coloured like that. Not by a long shot, as you can choose from more than ten different colours! This gives you the opportunity to match the colour of your oak tabletop with the rest of your interior.
How our oak wood warps
We've said it before on this page: wood warps. This also applies to our oak wood. But what exactly is wood warping and what can you expect? Firstly, it is good to know that our wood is sawn and dried under optimal conditions, such as a moisture percentage between 8% and 12%. We do this to achieve the best result we can, preventing the wood from warping as much as possible.
What exactly is warping? By warping we mean the working, cracking and shrinking of wood. Oak wood absorbs moisture and releases it again. This, in combination with significant temperature differences and a non-ideal humidity, can cause the wood to move somewhat, as it were. 100% prevention is not possible, but you can take some precautions to reduce the odds.
The most important precondition to prevent wood from warping is stable humidity in your house. Our tables thrive best with a humidity that fluctuates between 50% and 60%. By regularly airing your house and opening the windows every now and then, you ensure good conditions for your oak table.
Good maintenance is important
You naturally want to keep your brand-new table in top condition for as long as possible. Most stains can be removed immediately with a damp cloth. Be careful with tea bags, red wine and products that can oxidise, though. Use coasters to avoid stains.


To be able to enjoy your oak wood for years, it's smart to opt for quality maintenance. We not only sell top quality tables, but also maintenance products for all our different materials. Choose the maintenance product that suits your type of wood and ensure the possible result!