At Table du Sud you can choose from metal, wooden and stainless steel bases for your table. If you opt for a metal base, there are also different finishes.
The base can be finished with a clear coat or with a powder coating to ensure that the base is well protected. Want to know more? Then read on..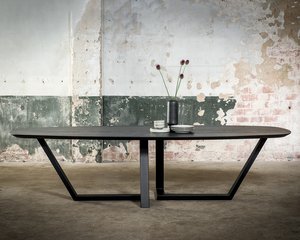 Lacquer or powder coating
You can also choose different finishes for the bases. Most of our tables come with a steel base. You can opt for a clear coat or powder coating. If you opt for the clear coat, the steel frame retains its sturdy, industrial look. The color is mottled gray and welding seams are clearly visible.

You can also choose a black or white powder coating. This gives the base a sleek, modern look with an even color applied.
No steel? Then a specific finish is applied for the table legs.

Our wooden legs are given the same finish as the table, so they match in colour and are also just as well protected.

For other types of table legs, please refer to the respective product information.