5 tips for choosing your frame
Discover all our designs and make your decision
With a suitable frame, your dining table gets the foundation it deserves. At Table du Sud we can supply you with tons of flavours when it comes to the basis. Moreover, we make the frames ourselves in our own workshop in Heeze.
That means beautiful custom work! But what should you pay attention to when choosing a frame? What types of frames are there? And what's possible in terms of finish? On this page we'll help you find your perfect frame.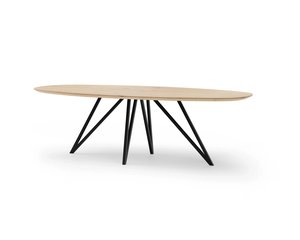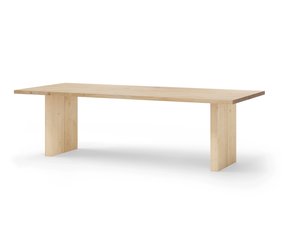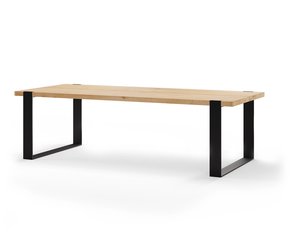 Tip 1: choose the right material
When you think of a frame, you may immediately think of steel. Steel is indeed one of the more popular materials, but did you know we can make stainless steel and oak frames for you as well? The frame largely determines the appearance of your table, so it's important to choose a material that matches well with the rest of your interior.
Tip 2: think of the legroom
Certainly in the case of a relatively small dining table, it's smart to consider the frame's position. Does it affect the legroom, for example? Then it's advisable to map out in advance where exactly you're going to place your dining chairs. This way you ensure that everyone has enough space, which also allows you to create a nice symmetrical whole. Extra tip: read our blog about the number of seats at the table. What amount suits your table and frame? Does it match the legroom?
Tip 3: discover all options
The tabletop will automatically consume a lot of focus during your search for a table. This is because you'll be using the tabletop every day and because it will be the eye-catcher of your dining room. Still, it's worth your while to discover what's possible when it comes to frames. Do you want a classic arrangement, one with one table leg under every corner? Do you prefer a central leg with three or more carriers? Everything's possible. So take your time to familiarise yourself with what we have to offer, so you can make the right choice!
Tip 4: don't forget the finish
We have our own paintshop at Table du Sud, which means that we're happy to spray paint your frame in a different colour for you. Does the natural steel look not suit you? Then you should know we can also spray your frame in black, white and in some cases in gold.
Tip 5: buying a separate top? Of course!
A frame forms a unity with a tabletop, but did you know that we also sell our frames and tabletops separately? We produce custom work in our own workshop, which gives us a lot of freedom. One of the consequences of this is that our frames are also for sale separately.
Inspiration
Not quite sure yet? Then the different living styles and the accompanying furniture will be a good starting point for your creative search. For example, are you more into the rural living style, or does your heart lie with industrial? We've listed all living styles for you, detailed descriptions and all. In addition, you'll find matching dining tables with frames for every living style. Become inspired and discover all the possibilities. Your new frame is closer than you think!