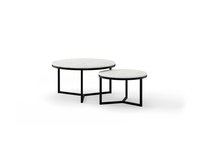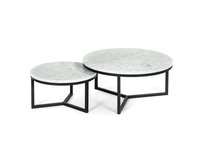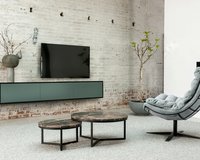 Marble coffee table set Veva
Only a down payment of € 246.00.
Pay the down payment now and the rest a few days before delivery of your order.
At your home within
6 - 8 weeks
The exact delivery time will be confirmed after ordering. Want to receive it later? Contact us.
12-month warranty
Our customers rate us a 9.2!
Custom made marble tables
Based in the Netherlands
Free ground floor delivery and installation

Marble coffee table set Veva
Product details
#mytabledusud
Reviews
View in showroom
You might like
Details
Read all the product info below.
Custom round marble coffee table set, available in different colours/prints, steel Veva frame.
Marble, a beautiful and timeless material. We import the marble from quarries in Italy. Marble is easy to combine with other natural materials or elements. Think of a wooden floor, pastel shades and fine rugs. The vein structure of the marble creates a rich, natural look, which emphasises your interior even more. If you want to give your interior that little bit extra, combine the marble with velvet and brass gold. Learn more about marble tabletops here!
Round coffee table set
Marble coffee table Veva has a modern and elegant appearance. The sleek steel frame in combination with the soft appearance of the round top provides your interior with an extra touch of charm! In addition, you shouldn't forget the playful composition of the different sizes, because that makes this set extra stylish and practical. The perfect match in combination with each other, but also strong and decisive on their own. You choose what you want!
Prefer a single coffee table? The set can be found separately here and here, but you can mix and match as well. Then take a look at our rectangular marble tables, round marble tables, or oval marble tables, as well.
Custom marble coffee table
Putting together your dream furniture has never been so easy, choose the sizes and colour that fit perfectly in your seating area (or any corner) and we'll get to work! The marble tops have a standard top thickness of 2 cm.
*At Table du Sud we treat the marble with an agent that provides its open structure with a protective layer. It is, nevertheless, important to maintain the marble every now and then, as it is a porous natural stone which easily suffers from spots and circles, unlike oak tabletops. This means coasters are anything but a superfluous luxury.
**As marble is a natural product, there may be some small irregularities in or on the tabletop. The same goes for superficial fossils in the top, even though it has been sanded completely flat. So please do not confuse these irregularities with damage to the top. Very small pits are not necessarily damage, but the result of nature.
Specifications
Bekijk kleuren in onze 3D Configurator
White powder coated, Black powder coated, Brass gold

#mytabledusud
Share your furniture to get featured!
Beautiful, I also saw it in the showroom at Tabledusud, but I find it too expensive for the standard frame and small surface marker.
Super, also very good at protecting against rings and stains!
Very nice, is this also in the showroom in Nieuwkoop?
"The brothers from Brabant have the ambition to become the best furniture store in the Benelux."
"In addition to impressive growth, the company is led by young enthusiastic entrepreneurs."
"They don't do serial work. Every table is unique."
"I think it's nice to see what people come up with, make it and deliver it to the customer, that the customer is really happy with it."
"Beautiful, also fast, everything digital, delivered at home (and assembled) and above all: no hassle, thank you very much."
"Service is our top priority. And our people. An enthusiastic team is very important."
"Not made abroad: the wooden tables of Table du Sud are made in Heeze, in the factory of the brothers.."
"Only after an order is one made, out of stock. Quick response manufacturing."
Showroom availability: No
You can always visit our showrooms for interior advice, fabric and color samples or to view your favorite designs. We are happy to help you. See you soon!
Showroom availability: Yes
Would you like to see this piece of furniture in real life? Discover the showroom(s) where you can take a look. You do not need to make an appointment for a visit.
Visit our showrooms