This is how a herringbone table is made.
The herringbone floor plays an unquestionable role in modern interior designs. The origins of this beautiful pattern are unknown, but they became hugely popular in sixteenth century Italy and France.
The French called this pattern "Bâtons rompus", which literally translates to broken sticks. We simply call it herringbone. Sticks, stones, or bones, at Table du Sud we have become enthralled with the herringbone pattern and have found a way to incorporate it in our tables.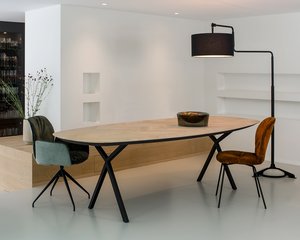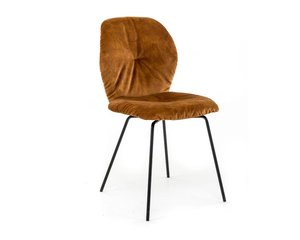 How we produce herringbone tables
The production process commences when the dried lumber arrives in our workshop in Heeze. The planks are fabricated into the slats needed for the structuring of the herringbone pattern for your table. These slats can be sawed into two sizes: a mini pattern of 9x35 cm and a medium pattern of 19x90 cm – or longer, depending on the table size. The table size is yours for the choosing and is custom-made. The blade thickness is 6 cm with rectangular tables and about 5 cm with round and oval tables. Next, the table can either be treated with or sprayed in different colours. Do you choose a classical, more elegant look, or do you prefer a more rugged, industrial look? By now, we already have thirteen different colour/finishing options suitable for oak wood.

Modern with an industrial wink
As you have just read, the herringbone pattern has been around for a while: and with good reason! It still breathes an elegance present only in those palaces and castles of yore, but we have added a contemporary flavour in line with interior design trends anno 2020. Whereas our herringbone tables are conventional, they our attributed a modern, industrial flavour. If you like a fully oak table, try a combination of oak blade and base. Besides, you have the option to pick a rugged metal or stainless steel base for a somewhat more modern look.
How to pick the right herringbone table
Due to its pattern, the herringbone table is a bit more dynamic than 'normal' oak tables. It could be precisely that eyecatcher your interior design needs; the statement piece that draws all eyes. Do you prefer a smaller table? Then opt for a mini pattern. While smaller in size, this still allows you to have multiple rows of herringbone. Do you have a bigger and/or longer table? Then bigger herringbone is the ideal to make your table look less hectic. Did you already pick your table, but are you still looking for fitting dining room chairs? Table du Sud offers a wide array of beautiful chairs that are easily adjustable to both your table as the rest of your interior design.