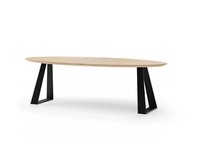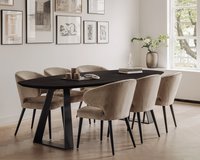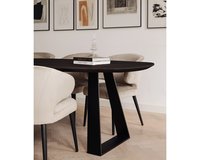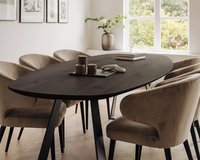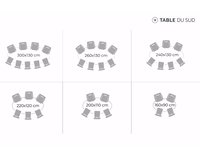 Oval oak dining table Cruz
Only a down payment of € 165.00.
Pay the down payment now and the rest a few days before delivery of your order.
At your home within
6 - 8 weeks
The exact delivery time will be confirmed after ordering. Want to receive it later? Contact us.
12-month warranty
Our customers rate us a 9.2!
Based in the Netherlands
We are planting back trees!
Free ground floor delivery and installation
Product details
#mytabledusud
Reviews
View in showroom
You might like
Details
Read all the product info below.
Custom oval oak table, with steel frame Cruz.
After years of round and then rectangular tables, oval tables are now on the rise. Due to the rounded corners it is a little less sleek and formal than a rectangular table, but this only makes it easier for more people to grab a seat: cosiness at its best! The tabletop is made of solid French oak with a thickness of 4, 5 or 6 cm and can be finished in several colours. In addition to a beautiful appearance, this treatment ensures that your table is optimally protected against circles and stains.
Oak dining table
Do you prefer a smooth and tight tabletop? Then go for new oak! With this option, the knots and cracks in the top are filled with a special resin for a sleek look. You can choose to fill the knots with a wood-coloured resin, or with a black resin for it to stand out more.
Do you prefer a characteristic look? Then choose lived oak. With this option, the knots and cracks are not filled and the top is brushed for the lived-in look. Would you like to know more about the material we use? Then check all the ins & outs about our oak wood.
Oval
The oval shape is and remains popular in the world of dining tables. This is because you can look at everyone, which creates a cosy atmosphere. In addition, you make efficient use of the available space with an oval dining table. Also take a look at the other oval dining tables.
In addition to the standard oval, this table is available in Danish oval, semi-oval and semi-circle shapes as well. Would you like to know more about these shapes? Then read our blog about the 4 oval shapes and get inspired.
Frame | Cruz
When we say we have everything in our own hands, we're of course also talking about our frames. We devise and weld the steel frames ourselves, which means we're able to bring new designs to life every now and then. For example, the Cruz frame is a relatively new design, one that doesn't bore easily. This sturdy frame stands out due to its vertical lines that run inwards. In short, a fairly basic frame, but slightly different! Is the Cruz not for you? Take a look at our other frames.
We customise your frame with our own hands in our own workshop! Plastic caps are attached to the bottom of the frame to protect the floor. Tip: we also sell separate frames and maintenance products for your new table.
From us, for you
We make all our tables in our own workshop in Heeze and we are proud of that! This makes it easier to realise your dream table, because we (literally) have everything in our own hands… Curious about the possibilities or do you have specific wishes? We are happy to advise you in putting together your custom table, because Table du Sud makes your taste! As mentioned, we do this in a state-of-the-art workshop. Want to know more about this? Then read the answers to the frequently asked questions about the workshop. This way, you get a good picture of what we are doing on a daily basis!
Cutting pattern
It remains difficult to determine how big an oval table will be in your home. We offer the solution: the Table du Sud oval table cutting pattern!
Specifications
Bekijk kleuren in onze 3D Configurator, Bekijk alle 11 kleuren in onze 3D Configurator
Standaard, Facet, Bol, 20 graden
Nieuw eiken, Geleefd eiken, Verfijnd eiken
Wit gepoedercoat, Zwart gepoedercoat, Anodic brown
74 cm, 75 cm, 76 cm (advieshoogte), 77 cm, 78 cm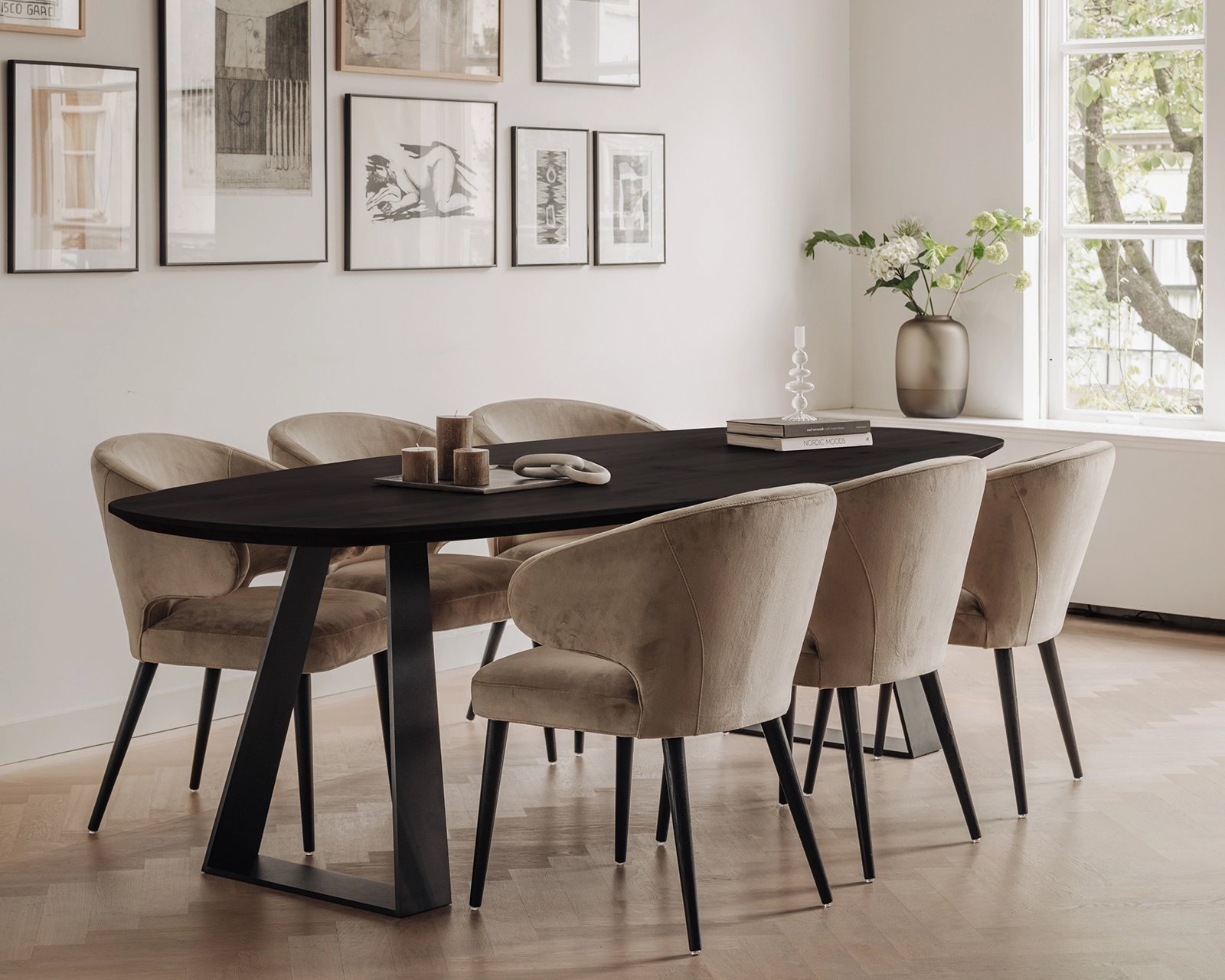 #mytabledusud
Share your furniture to get featured!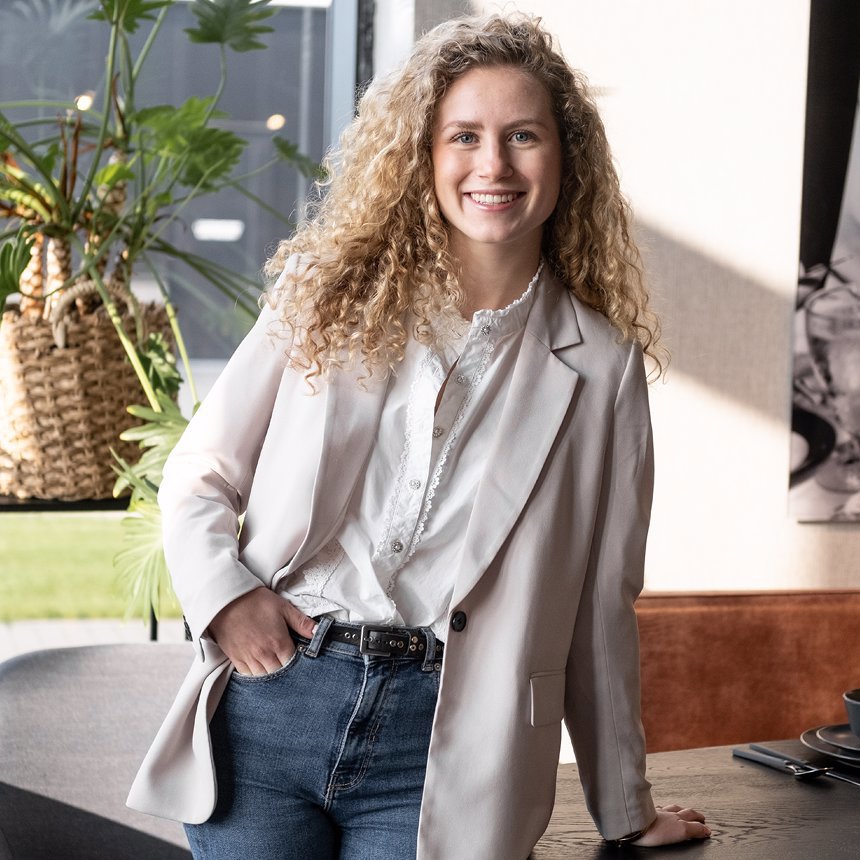 Linde
Showroom Employee - Heeze
Nice showroom staff who helped us assemble our table. We were undecided between the ultra matte lacquer and deep black, but eventually went for a black table so it would match our herringbone floor. Scheduling the delivery was easy and the men who came to install the table were very skilled.
"The brothers from Brabant have the ambition to become the best furniture store in the Benelux."
"In addition to impressive growth, the company is led by young enthusiastic entrepreneurs."
"They don't do serial work. Every table is unique."
"I think it's nice to see what people come up with, make it and deliver it to the customer, that the customer is really happy with it."
"Beautiful, also fast, everything digital, delivered at home (and assembled) and above all: no hassle, thank you very much."
"Service is our top priority. And our people. An enthusiastic team is very important."
"Not made abroad: the wooden tables of Table du Sud are made in Heeze, in the factory of the brothers.."
"Only after an order is one made, out of stock. Quick response manufacturing."
Showroom availability: No
You can always visit our showrooms for interior advice, fabric and color samples or to view your favorite designs. We are happy to help you. See you soon!
Showroom availability: Yes
Would you like to see this piece of furniture in real life? Discover the showroom(s) where you can take a look. You do not need to make an appointment for a visit.
Visit our showrooms
You might like
Selected especially for you.
View more