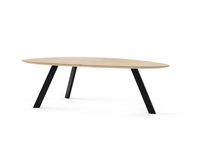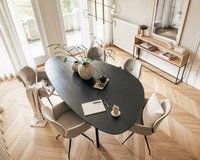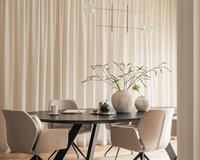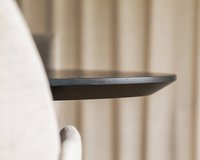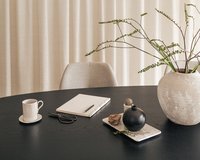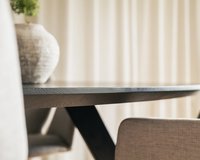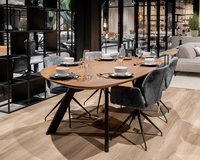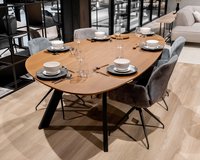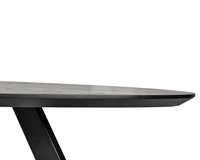 Pebble-shaped oak dining table Egu
Only a down payment of € 199.50.
Pay the down payment now and the rest a few days before delivery of your order.
At your home within
6 - 8 weeks
The exact delivery time will be confirmed after ordering. Want to receive it later? Contact us.
12-month warranty
Our customers rate us a 9.2!
Based in the Netherlands
We are planting back trees!
Free ground floor delivery and installation
Product details
#mytabledusud
Reviews
View in showroom
You might like
Details
Read all the product info below.
Oak table in an organic shape Egu, available in various colours and sizes. 
We love unique tables, which is why we make all of them in our own workshop. But it doesn't stop there. We are constantly looking for new and therefore unique designs… We believe that organic shapes make your interior even more beautiful! That's why we have omitted the well-known and somewhat 'common' shapes to arrive at a truly unique design.
The pebble-shaped dining table is a table like never before! The organic shape makes this dining table truly something else. Rediscover dining at Table du Sud's pebble-shaped table!
Oak dining table
Do you prefer a smooth and tight top? Then go for new oak! With this option, the knots and cracks in the top are filled with a special resin for a sleek look. You can choose to fill the knots with a wood-coloured resin, or with a black resin so it stands out more.
Do you prefer a characteristic look? Then choose 'lived oak'. With this option, the knots and cracks are not filled and the top is brushed for the lived-in look. Want to know more? Read everything about our oak wood.
Pebble shape
When it comes to design, the pebble shape is our most eye-catching shape. The rectangle, circle and oval are real classics in the kitchen or dining room, but if you want to be truly original, a pebble-shaped dining table is the way to go. This organic shape offers you the opportunity to use your space efficiently and at the same time, this piece of furniture is a real scene-stealer.
You may not immediately pick a pebble-shaped table, but it's certainly worth considering! In our blog about asymmetrical furniture, we show you exactly what pebble-shaped furniture is and what its advantages are.
Frame | Egu
The minimal, sleek Egu frame gives every interior the chance to shine! The Egu is not only a real looker, it's also very practical. For example, the three sloping legs provide both stability and sufficient legroom.
We custom-make your frame with our own hands in our own workshop! Plastic caps are attached to the bottom of the frame to protect the floor. Tip: we also sell separate frames.
Custom made
Did you know that we make all tables with our own hands? Even in our own country! Our workshop is located in Heeze and that's something we're proud of. This makes it easier to realise your dream table, because we (literally) have everything in our own hands… Curious how your table comes to be? This is how it's made!
The pebble-shaped table can be ordered in different sizes. In addition, it is also possible to mirror the shape, type A and type B. This way the pebble-shaped table always comes into its own!
Specifications
View all 11 colours in our 3d configurator
Table top edge finishing:
Standard, Facet, Round, 20 degrees
New oak, Lived oak, Refined oak
White powder coated, Black powder coated, Anodic brown
74 cm, 75 cm, 76 cm (advieshoogte), 77 cm, 78 cm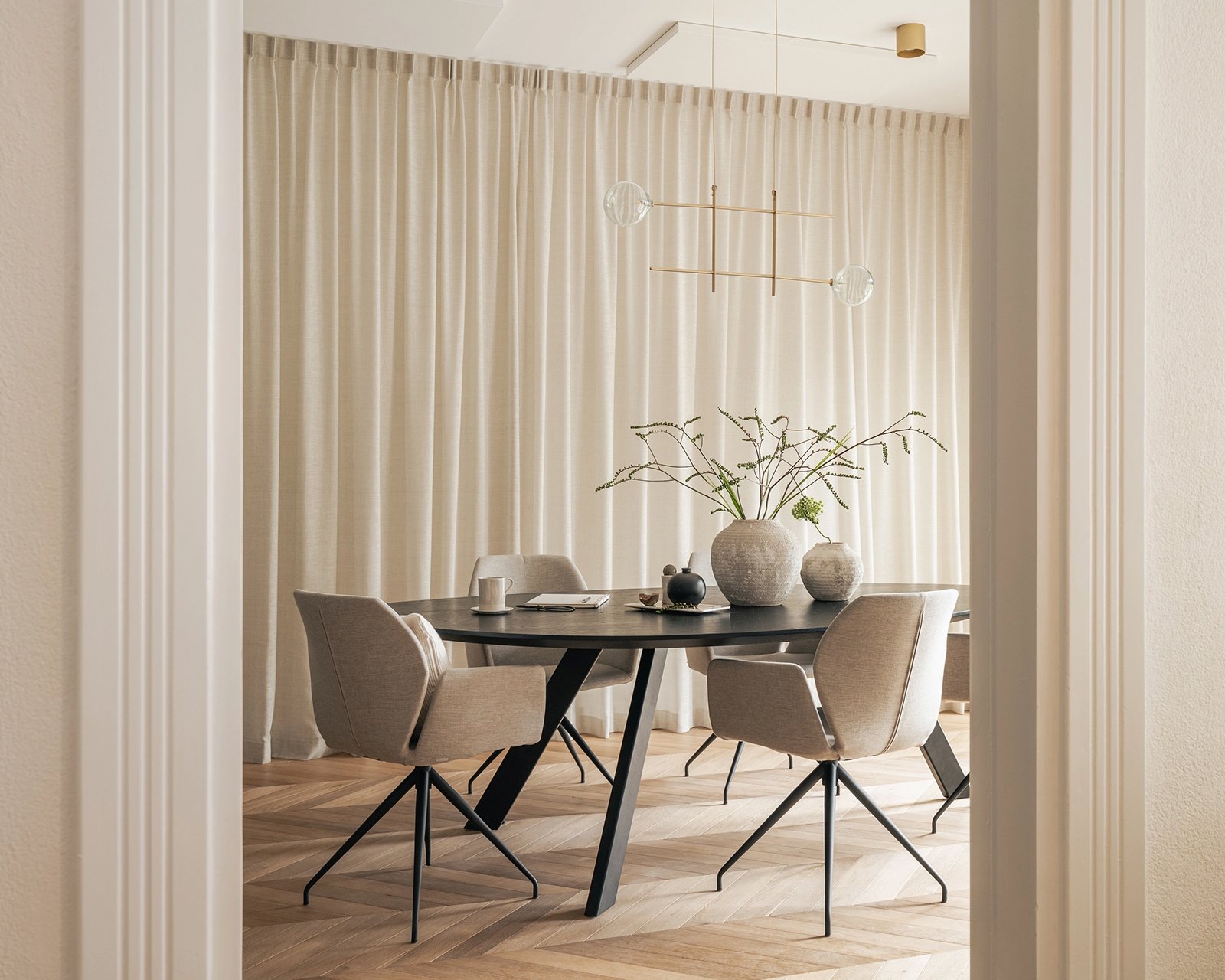 #mytabledusud
Share your furniture to get featured!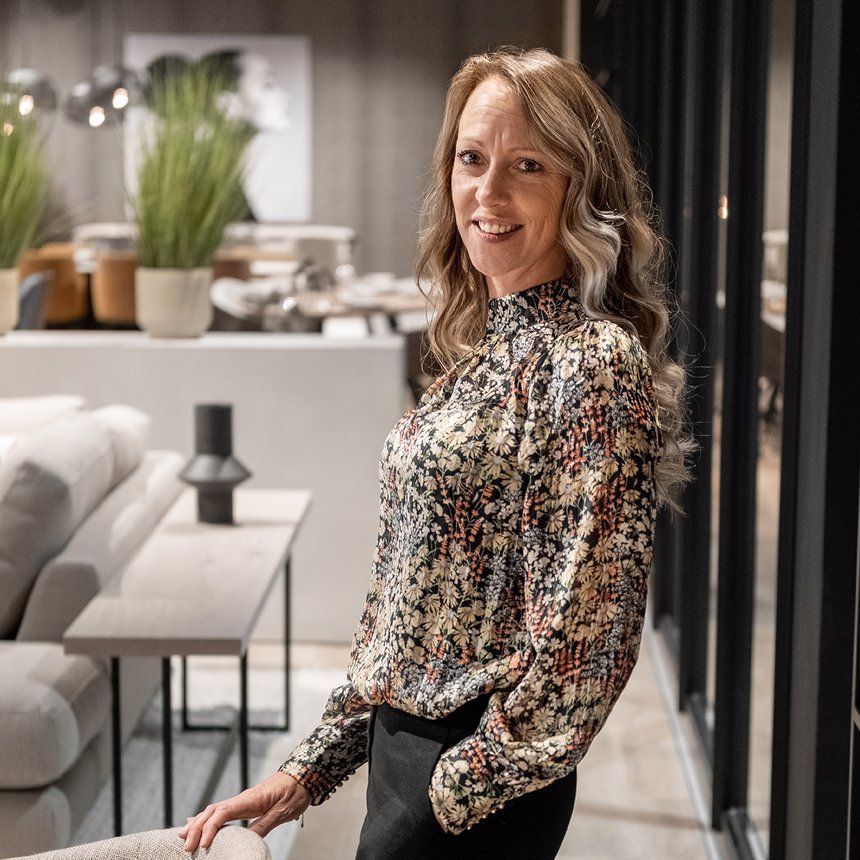 Marjolijn
Showroom Employee - Utrecht
Surprised by the offer and the expertise in the Utrecht showroom. Quick delivery was a nice extra for us.
"The brothers from Brabant have the ambition to become the best furniture store in the Benelux."
"In addition to impressive growth, the company is led by young enthusiastic entrepreneurs."
"They don't do serial work. Every table is unique."
"I think it's nice to see what people come up with, make it and deliver it to the customer, that the customer is really happy with it."
"Beautiful, also fast, everything digital, delivered at home (and assembled) and above all: no hassle, thank you very much."
"Service is our top priority. And our people. An enthusiastic team is very important."
"Not made abroad: the wooden tables of Table du Sud are made in Heeze, in the factory of the brothers.."
"Only after an order is one made, out of stock. Quick response manufacturing."
Showroom availability: No
You can always visit our showrooms for interior advice, fabric and color samples or to view your favorite designs. We are happy to help you. See you soon!
Showroom availability: Yes
Would you like to see this piece of furniture in real life? Discover the showroom(s) where you can take a look. You do not need to make an appointment for a visit.
Visit our showrooms
You might like
Selected especially for you.
View more