The autumn colours of 2021
The 5 perfect autumn colours for a warm and atmospheric interior
We can't ignore it anymore. Summer is definitely over and the weather says: it's autumn. We all go inside to shelter from the stormy and rainy weather and prefer to spend the long evenings at the table or on the couch.
So it's that time of the year to make it cozy at home! We have collected the 5 autumn colours of this year for you with tips on how to apply and combine them in your home, good luck!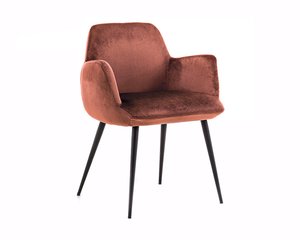 Atmospheric chic interior
Rust brown
Rust brown is a real autumn colour and can be perfectly combined with other earthy colours such as ocher yellow, dark green, beige and brown! Rust brown is a deep, intimate colour, but that doesn't make it less accessible. This colour is beautiful for an industrial interior, but also comes into its own in a country or elegant chic interior. For example, go for rust brown velvet dining chairs for extra cosyness at the table…

Combine this color with rich natural materials, such as a wool rug or a wooden table. This creates a serene total and makes your house a real home.


Green
Everyone wants a soothing interior, right? Create an oasis of peace in your living room with green dining chairs. Green is a calming colour. In addition, it is a colour that is easy to combine with colours such as ocher yellow, gold, black, deep blue and brown.

Another interior trend at the moment is adding gold or brass details in your interior. Good to know, this looks great in combination with green! This allows you to create that elegantly chic look and this combination provides extra warmth in the house.

Are green chairs a bit too intense, or do you want to slowly get used to a green interior. Then start with plants! Plants deserve a nice spot too, and our side tables are perfect for that! This way you create a somewhat industrial green interior in a subtle way.

Ocher yellow
A real fall colour if you ask us. The warm yellow colour of the autumn leaves is also beautiful in your home. You don't necessarily have to paint a wall to add colour to your interior. An ocher relaxing armchair, such as our lovely pastille armchair, is also an excellent option! Be careful, you really don't want to get out once you sit in it...

Yellow ocher can also be nicely combined with green, because it has the same tone as gold. A great combination that suits the elegant chic look! Do you prefer an industrial or sturdy look? Then combine ocher yellow with black. This can be done very easily. A beautiful steel side table where you can put your autumn bouquet!
Interior with natural tones
White
This fall we are bringing a colour from summer, namely: white! We may associate white with sunny weather and summer in general, but it is actually also a very wintery colour. Although we don't always have a snowy winter, is snow really winter thing (and white of course).

There are many different colours of white, warm white, snow white and so on. White fits seamlessly with the trendy beige colours of today. Combine these colours with each other and you create a wonderful feeling of calmness in the house. An interior with natural colours provides a nice, but above all a safe basis.

A slightly less safe, but certainly stylish way of applying natural colours in your interior? Join the trend and choose a white or beige sofa. This fits perfectly in the Scandinavian interior style or in a Japandi interior.


Brown
Brown, an ultimate mood maker, is back again! Where we opted for black accents for years, we see brown not only returning in furniture this autumn, but also as a trend colour for sure.

Combine different earthy brown tones for a beautiful and stylish tone-on-tone effect. Think of a sand-coloured sofa, a wooden coffee table or side table! That sounds good right? Brown is the perfect colour to mix and match.

A brown oak dining table? Yes please! Classic, if you ask us. Combine it with deep colours and rich materials for a soothing atmosphere at home. Think of linen curtains, a wool rug or a leather dining sofa or chairs.