100% Italian quality marble.
Marble has made a comeback. The veined natural stone provides tranquility and the beautiful veins and subtle colour gradient give a chic look.
At Table du Sud we don't like fake materials, which is why our marble furniture is made of 100% Italian quality marble!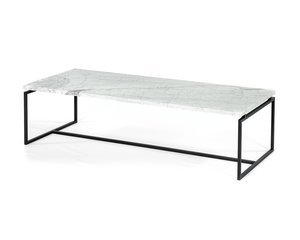 We import the marble of our furniture ourselves from marble quarries in Italy. Only the most beautiful marble is selected. Because we select the blocks ourselves, we are sure of the best and most consistent quality. In the Netherlands, the blades are milled to size and finished to Dutch quality standards. In our workshop in Heeze, the undercarriage is fully custom-made and combined with the top.


Different shapes, colors and sizes
At Table du Sud you can choose from three different colors for your custom furniture: Bianco Carrara, Nero Marquine and Greystone. In addition, you will regularly find limited editions in our collection. These limited edition marble tables have a unique print and color that are not often seen.

The following marble furniture is available to measure:
- Oval marble dining tables
- Round marble dining tables
- Rectangular marble dining tables
- Coffee tables


Various colours marble furniture
Marble is a porous natural stone, in which stains and circles can easily form. This is especially damaged by acidic liquids because the acid attacks the lime that makes up the marble. Black coffee can also leave annoying circles. So use coasters and coasters.

If you prefer a more user-friendly table, choose wood or ceramic.

The marble is treated with an agent that provides the open structure with a protective layer. Regular cleaning is important. A special marble spray is available via our website. Do not use scouring pads or aggressive cleaning agents because marble is scratch sensitive.

In case of stains, act immediately and do not let the stain set. More information can be found on our marble table maintenance card.