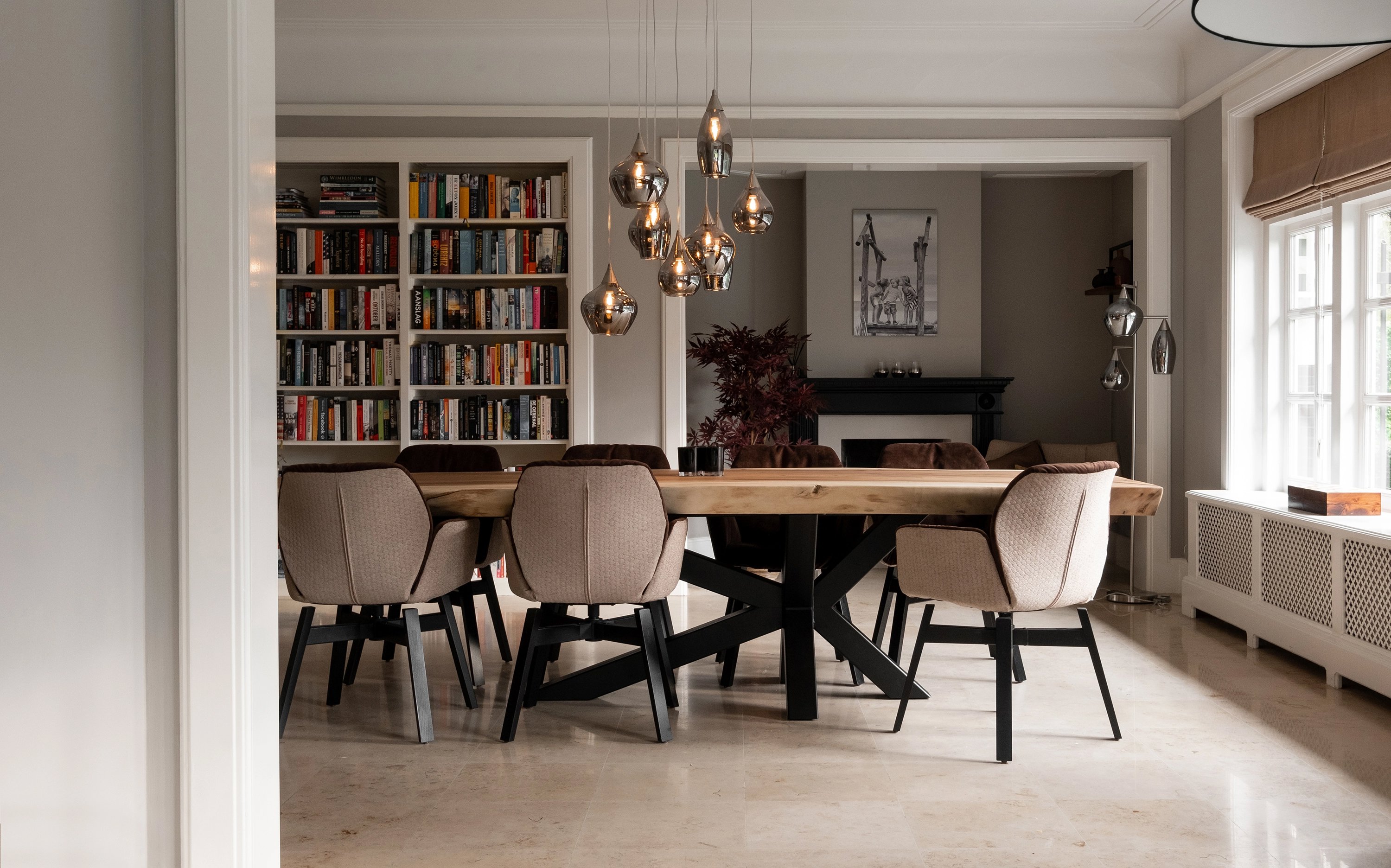 Zeist - House
Een woning vol karakter en vol Table du Sud!
Zeist | Compleet interieur
Een compleet interieur op maat by Table du Sud!
Welcome to our showroom eh... in Zeist! We proudly present this beautiful home to you. Very proud. Why? Well watch and enjoy, but first we want to tell you a thing or two about it. Because did you know that at Table du Sud, that is, with us, you can't just go for a custom table, but actually just for your entire interior?

Custom tree trunk table
We have a wide range of tables. And actually they are all unique, because we make custom work, especially for you. But it doesn't get more unique than a Suar tree trunk table. One piece of solid wood that you say 'U' to. Because there is no other of this Suar tree trunk table. Maybe one that looks similar, but a replica simply does not exist.

Velvet dining room chairs
Dining room chairs are very decisive for the atmosphere in the house. A dark fabric creates a moody atmosphere and a light fabric creates a fresh look. What happens when you combine light and dark? Then you create depth! You can cover our Mood #99 chairs with two different fabrics (if you can't choose ;-)).
Velvet dining room chairs fit perfectly in a hotel chic interior, provide warmth and atmosphere.
From dining room chairs to...
Relaxing armchairs, because after dinner you want to relax for a while. And where better to do that than in your favorite chair? As you can see, the recliner is also completely in style and in the same color palette as the dining room chairs. This creates a refined harmony in the house.

Velvet corner sofa
No more arguing about who can lie in the corner with a velvet corner sofa. Because wherever you sit... It feels like you are being embraced by warmth and softness.

Pouf or side table
Last but not least, our pastille pouf for a dynamic touch. And did you already know how multifunctional an ottoman is? It's so much more than just an ottoman, it's a footstool, side table, extra seating... Do we need to say more?