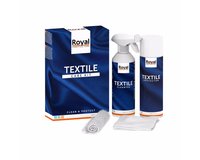 Discount
View online only
At your home within
2 - 3 workdays
The exact delivery time will be confirmed after ordering. Want to receive it later? Contact us.
View online only
Adding
Already in cart
View cart
12-month warranty
Based in the Netherlands
Personal advice at three locations
Free delivery from 250 euro

Textile Care Kit
Product details
#mytabledusud
Reviews
View in showroom
You might like
Details
Read all the product info below.
With the Textile Protection Set you can keep new furniture in tiptop condition and recover (old) stained furniture to a clean, fresh and fully protected condition.
The Textile Protection Set can be used on all textiles! Ideal for seating, but also suitable for carpets, curtains, garden cushions, car upholstery, etc.

The Textile Protection Set consists of:
1 x Textile Protector 500 ml
1 x Textile Cleantex 500 ml
1 x cotton cleaning glove
1 x white cleaning cloth

Textile Protector (textile protector, spray can)
Renders new textile furniture and newly cleaned furniture fabrics fully stain-repellent and water-repellent. Dirt can no longer penetrate the textile fibre and can instead be easily wiped off with a cloth or tissue. Textile Protector fully protects upholstery fabrics against "accidents" (stains) such as red wine, coffee, cola, ketchup, etc...

Cleantex is an effective and efficient stain remover for natural and synthetic (microfibre) textile coverings. Cleantex easily removes common household stains from furniture, car upholstery, carpets and curtains. Cleantex cleans everyday household stains such as grease stains, drink stains, food stains, etc... from textiles.
In short: an indispensable product for every household!

#mytabledusud
Share your furniture to get featured!
"The brothers from Brabant have the ambition to become the best furniture store in the Benelux."
"In addition to impressive growth, the company is led by young enthusiastic entrepreneurs."
"They don't do serial work. Every table is unique."
"I think it's nice to see what people come up with, make it and deliver it to the customer, that the customer is really happy with it."
"Beautiful, also fast, everything digital, delivered at home (and assembled) and above all: no hassle, thank you very much."
"Service is our top priority. And our people. An enthusiastic team is very important."
"Not made abroad: the wooden tables of Table du Sud are made in Heeze, in the factory of the brothers.."
"Only after an order is one made, out of stock. Quick response manufacturing."
Showroom availability: No
Find out more about our opening times at our showrooms.
Showroom availability: Yes
You can find this piece of furniture or product at:
Visit our showrooms