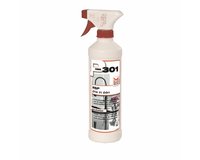 Discount
View online only
At your home within
2 - 3 workdays
The exact delivery time will be confirmed after ordering. Want to receive it later? Contact us.
View online only
Adding
Already in cart
View cart
12-month warranty
Based in the Netherlands
Personal advice at three locations
Free delivery from 250 euro

Maintenance spray Marble
Product details
#mytabledusud
Reviews
View in showroom
You might like
Details
Read all the product info below.
HMK P301 RSP - three in one is an effective and ready-to-use product that is specially intended for the daily maintenance of your marble furniture!
Characteristics
Maintenance agent for worktops, countertops, and tabletops
Ready for use
Only suitable for indoor use
Expenditure: usually 20 to 30 m2 per spray bottle


Application
HMK P301 RSP three-in-one spray is effective and ready for use, specifically intended for the daily maintenance of kitchen worktops, tables, countertops, washstands, windowsills and other tops or shelves made of natural and artificial stone. This product removes slight soiling and grease without problems. Its special sealants are a perfect addition to the functioning of HMK-impregnating agents (such as HMK S232 stain stopper – without solvents, or HMK S234 stain stopper – with a Top-Effect and water-repellent). These cleansing ingredients fit well together; they preserve both the natural appearance of the surface and provide a pleasant, refreshing odour while barely being of influence on the surface's colour and structure.
The active ingredients that remain are not harmful to your health and are suitable for foodstuffs application (checked and certified by the LFGB). HMK P301 offers plenty of working comfort during the quick, interim cleaning of surfaces.
Usage
Shake vigorously before usage. Use HMK P301 RSP three-in-one spray evenly on a dry surface, let it soak in, then wipe it off with a soft, lint-free cloth. Do not use under full sunlight. Do not spray on hot objects. Clean its nozzle with clear water after use. Be sure to polish the surface with a dry cloth.
Please note
Bulk packaging is available upon request!

#mytabledusud
Share your furniture to get featured!
Superproduct! = Superproduct!
"The brothers from Brabant have the ambition to become the best furniture store in the Benelux."
"In addition to impressive growth, the company is led by young enthusiastic entrepreneurs."
"They don't do serial work. Every table is unique."
"I think it's nice to see what people come up with, make it and deliver it to the customer, that the customer is really happy with it."
"Beautiful, also fast, everything digital, delivered at home (and assembled) and above all: no hassle, thank you very much."
"Service is our top priority. And our people. An enthusiastic team is very important."
"Not made abroad: the wooden tables of Table du Sud are made in Heeze, in the factory of the brothers.."
"Only after an order is one made, out of stock. Quick response manufacturing."
Showroom availability: No
Find out more about our opening times at our showrooms.
Showroom availability: Yes
You can find this piece of furniture or product at:
Visit our showrooms