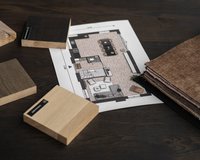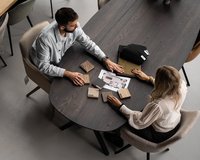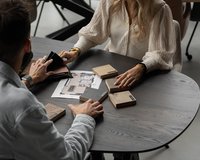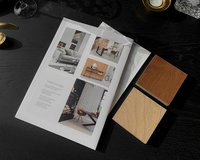 Colour samples (per colour)
Discount
View online only
At your home within
2 - 3 workdays
The exact delivery time will be confirmed after ordering. Want to receive it later? Contact us.
12-month warranty
Based in the Netherlands
Personal advice at three locations
Free delivery from 250 euro

Colour samples (per colour)
Product details
#mytabledusud
Reviews
View in showroom
You might like
Details
Read all the product info below.
Still in doubt between one or two wood colours? You will receive the color samples neatly packaged in a letterbox package.
The blocks are coloured on both sides, so you will receive a block with the selected colour + a random colour.
A good match with the rest of your interior is very important. On screen, this is sometimes difficult to see. Every monitor displays colours differently, some closer to real life than others. If you want to be sure of making the right choice, our colour samples provide the solution.
Using our colour samples you can make an informed decision. By placing the samples next to your current furniture, floor and walls, you know exactly what the combination of materials and colours will look like.
Please note that the colour samples are only available for the colours that can be applied to oak. Colour samples are therefore not available for walnut, saman and concrete. To admire these colours in real life, you need to visit one of our showrooms. Please note: these samples are small cubes, you will get a better impression of the colours in one of our showrooms!

#mytabledusud
Share your furniture to get featured!
"The brothers from Brabant have the ambition to become the best furniture store in the Benelux."
"In addition to impressive growth, the company is led by young enthusiastic entrepreneurs."
"They don't do serial work. Every table is unique."
"I think it's nice to see what people come up with, make it and deliver it to the customer, that the customer is really happy with it."
"Beautiful, also fast, everything digital, delivered at home (and assembled) and above all: no hassle, thank you very much."
"Service is our top priority. And our people. An enthusiastic team is very important."
"Not made abroad: the wooden tables of Table du Sud are made in Heeze, in the factory of the brothers.."
"Only after an order is one made, out of stock. Quick response manufacturing."
Showroom availability: No
Find out more about our opening times at our showrooms.
Showroom availability: Yes
You can find this piece of furniture or product at:
Visit our showrooms